Pitt+Me Day Celebrates Research Past and Present
November 6th, 2019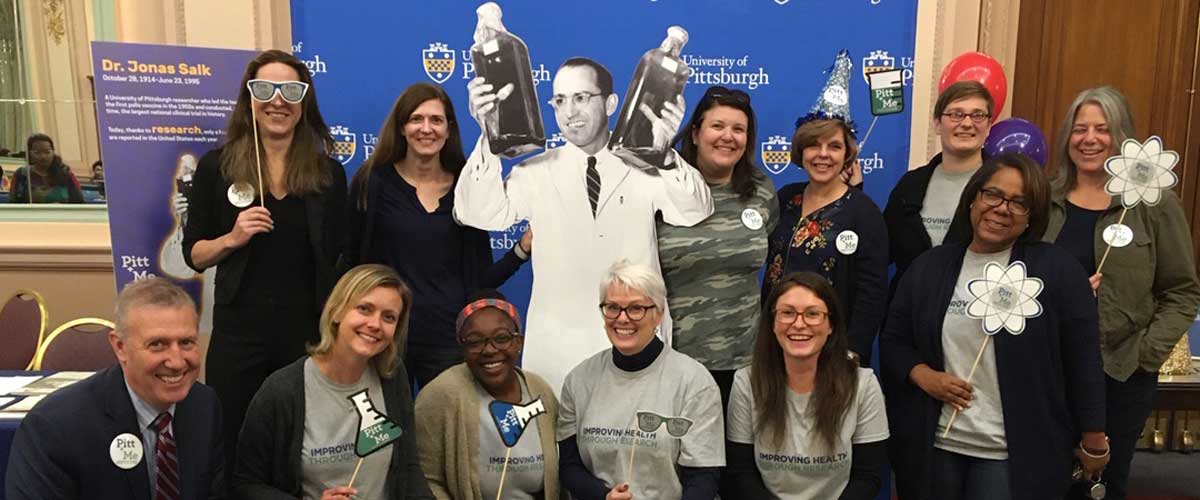 On Monday, October 28, 2019, Pitt+Me staff from the Clinical and Translational Science Institute welcomed over 700 students, staff, community members, and researchers to Pitt+Me Day: A SALK-a-bration of Research at the University of Pittsburgh's Oakland campus. The event was held to celebrate the legacy and birthday of Dr. Jonas Salk—a Pitt researcher who led the team that developed the first polio vaccine. Polio, a disease that attacks the nervous system and can lead to paralysis and death, was an epidemic in the United States in the 1950s. Today, thanks to the work of Salk and others, only a handful of polio cases are reported in the United States each year.
During the event, a team from Pitt's Archives & Special Collections department provided a rare glimpse into research history with a tabletop display of items including lab photos and vaccination records from Dr. Salk, photographs and artifacts from groundbreaking transplant surgeon Dr. Thomas Starzl, and an original resuscitation doll and photos of the Freedom House Ambulance Service from pioneering emergency medicine physician Dr. Peter Safar. Current Pitt research teams featuring studies about exercise, flu vaccine immunity, precision medicine, substance use, and mental health disorders were also on hand to talk with attendees about ongoing research opportunities.
In addition to learning about research past and present, guests were also treated to birthday cupcakes, a mac-and-cheese bar, T-shirts, therapy dogs, a research trivia game, and other activities. To top things off, a life-sized cutout of Dr. Salk inspired many people in the crowd to take pictures with the late researcher who helped save millions of lives around the world. Check out our Pitt+Me Facebook page for more SALK-a-bration pictures!