Local Innovators Compete to Solve Health Problems
October 24th, 2018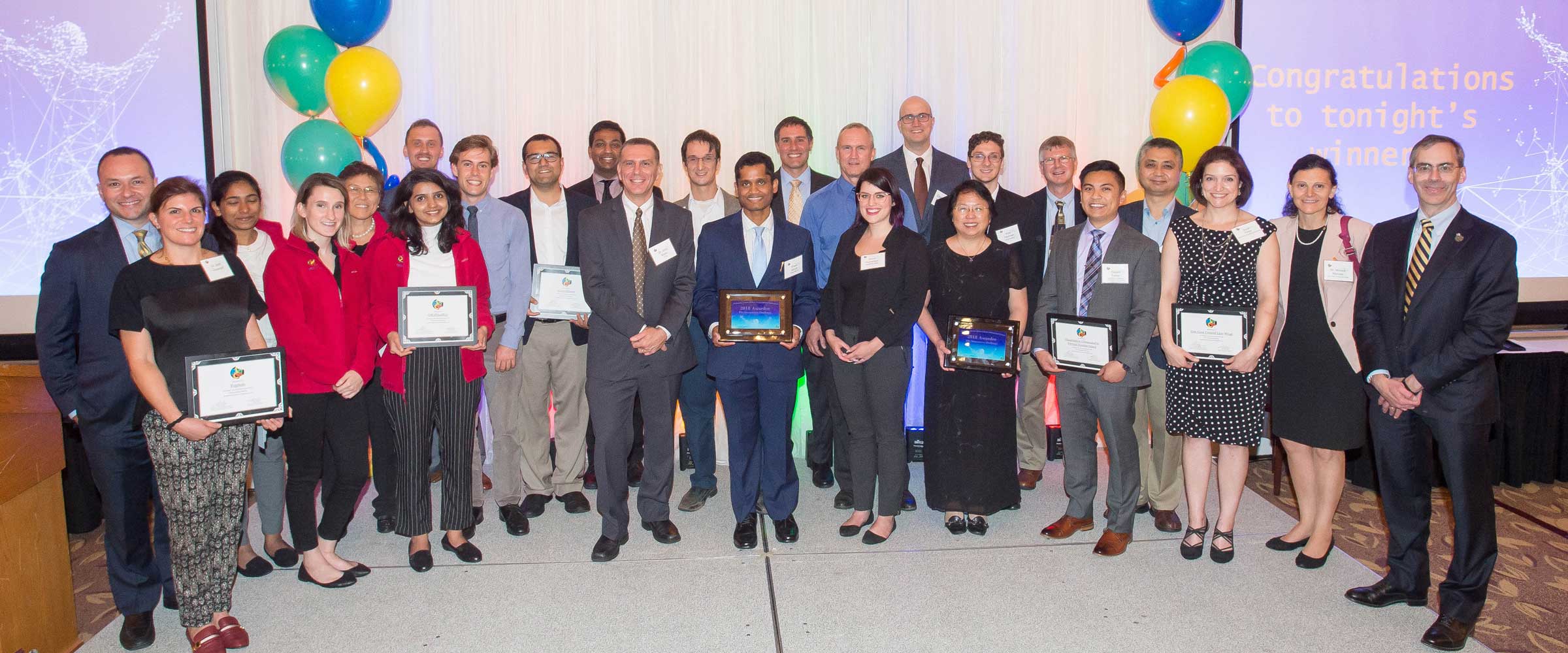 "What is your idea to improve human performance?" That was the question posed to researchers at the 2018 Pitt Innovation Challenge (PInCh) contest, during which teams presented their innovative solutions for a range of health issues including asthma, cancer, catheter care, COPD (chronic obstructive pulmonary disease), fall prevention, foot surgery, medication dosing, sleep disorders, sports injuries, tremor, and others. Presenters competed for cash awards of $25,000 or $100,000, plus ongoing assistance with their projects.
Each team submitted a video and written proposal describing their idea, and pitched their solution at the PInCh event held at the University Club on September 26, 2018. Winning projects were chosen based on the significance and impact of the problem, and the innovation and usefulness of the proposed solution. A panel of expert judges chose the winning teams in the $100,000 category. In the $25,000 category, PInCh event attendees voted for their top three choices after reviewing project posters and talking with the research teams.
During the event, three teams were awarded the top prize of $100,000 for their innovative solutions:
Christopher Wilmer, PhD, and his team won for Health-E-Nose, a technology that uses gas sensors to detect cancer and assess overall health. Unlike currently available options, Health-E-Nose promises improved design and ease of use.
Maliha Zahid, MD, PhD, and her team won a top prize for LungHealth-E, a new medication-based therapy for chronic obstructive pulmonary disease (COPD) that seeks to treat the underlying cause of the disease rather than just controlling symptoms. Dr. Zahid's team also received a $25,000 bonus award from Phillips Healthcare for their project's connection to respiratory health.
Cameron Dezfulian, MD, William Clark, PhD, and their team also won a top prize for ThreadRite IV—a technology that aims to help medical professionals successfully insert IVs on the first try, reducing patient suffering and saving time and resources.
In the $25,000 finalist category, six teams won awards for their innovative ideas. All winning teams will use their prize money to further research and develop their solutions.
Started in 2014 by the Clinical and Translational Science Institute at the University of Pittsburgh, the PInCh competition poses a new challenge each year to stimulate innovation in a fresh, exciting way. Since its inception, PInCh contest winners have received over $2 million in funding and some have gone on to launch companies and release commercial products.
To read more about the competition and award winners, visit the PInCh website.