STUDY BASICS
Are you between ages 21-75 and diagnosed with severe alcohol use disorder? If so, you may be eligible to participate in a research study determining if deep brain stimulation (DBS) can improve symptoms of alcohol use disorder. Compensation is provided.
STUDY PURPOSE
This study is being done to better understand whether DBS of the limbic pallidum (part of the brain that we believe contributes to your symptoms) can prevent use of alcohol after one has decided to stop drinking and address the symptoms of alcohol use disorder that have not responded to currently available treatments.
To do this, we will need to place a very small needle called an electrode in the limbic pallidum. DBS allows targeting areas deep in the brain to modify their activity, which is not otherwise possible with other non-invasive tools like transcranial magnetic stimulation. DBS is currently approved by the Food and Drug Administration (FDA) for treatment of Parkinson's disease, essential tremor, and epilepsy. The FDA has not approved DBS for use in people with AUD. The device manufacturer (Medtronic) has not conducted testing for the device in AUD. Therefore, the use of DBS in this study is investigational.
COULD THIS STUDY BE RIGHT FOR

YOU

?
Eligible participants are:
Ages 21-75 years old
Diagnosed with severe primary Alcohol Use Disorder (AUD) with insight into their alcohol use disorder
Seeking treatment for their AUD
WHAT PARTICIPANTS CAN EXPECT
Participants with severe Alcohol Use Disorder (AUD) will undergo baseline medical and psychiatric assessments, cognitive and behavioral testing, and positron emission tomography (PET) imaging. One to two weeks later, participants will undergo neurosurgical implantation of deep brain stimulation (DBS) electrodes in the limbic pallidum (area of the brain) and a neurostimulator. Four weeks after DBS system implantation, the DBS system will be turned ON and the stimulation parameters optimized. Participants will be followed biweekly then monthly, and will then undergo repeat comprehensive assessment after 6 and 12 months of DBS stimulation. If you wish the device to be removed at any time, the doctor will arrange for this to take place.
IRB: STUDY22030036
- Limbic Pallidum DBS for the treatment of severe alcohol use disorder
MEET THE RESEARCHERS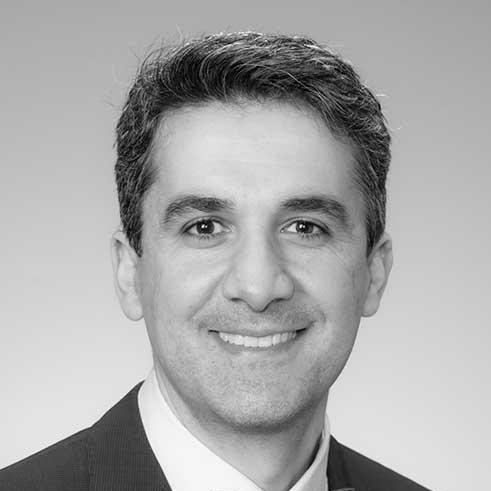 Khaled Moussawi
Dr. Moussawi is Board-certified Assistant Professor of Neurology and Psychiatry. Dr. Moussawi has extensive expertise in substance use disorders and neuromodulation. He finished his Neurology Residency at the Mass General Brigham Program affiliated with Harvard Medical School, and then completed a clinical fellowship in Neuropsychiatry at Johns Hopkins and a research fellowship in substance use disorders and neuromodulation at the Intramural Research Program of the National Institute on Drug Abuse (NIDA).
Kevin Kraemer
Dr. Kraemer is Board-certified Professor of Medicine. He specializes in addiction medicine and is in charge of several clinical trials related to drug addiction. Dr. Kraemer completed his medical degree at the University of California at San Francisco, residency at Oregon Health Sciences University Hospital, and fellowship at Harvard Medical School.
Jorge Gonzalez-Martinez
Jorge Gonzalez-Martinez MD PhD FAANS is a neurosurgeon subspecialized in epilepsy and functional neurosurgery. He is the director of the epilepsy and movement disorders surgery at University of Pittsburgh Medical Center. Dr Gonzalez is a medical pioneer in less invasive methods for treating medically refractory seizures such as stereo-electroencephalography, SEEG guided laser ablative procedures, neuromodulatory interventions and robotic guided surgeries, His particular field of interest and academic drive is related to neuro-electrophysiology, intracranial signal processing and behavioral neuroscience studies. Combined, the clinical and basic science efforts translate and pave the future for safer and more efficient methods for treating patients with severe seizures, promoting the improvement of symptoms, in combination with better functional and quality of life outcomes.