STUDY BASICS
Are you a postmenopausal woman with newly diagnosed invasive lobular breast cancer (ILC)? If so, you may be able to participate in a research study to learn more about how tumors respond to hormonal therapy in this population.
STUDY PURPOSE
Invasive lobular breast cancer (ILC) is a relatively rare subtype of breast cancer, representing just 5-15% of breast cancer cases. Most cases of ILC that test positive for hormone receptors are treated with hormone therapy (also called endocrine therapy) to help block the growth and prevent the return of the cancer, but there has been little research into the impact of different hormone treatments in this population. The purpose of this study is to learn more about changes in the growth rate of breast tumor tissue before and after treatment with three common hormone treatments: tamoxifen, anastrazole, and fulvestrant. Researchers hope their findings may lead to better ways to individualize hormone treatment for women with ILC.
COULD THIS STUDY BE RIGHT FOR

YOU

?
Women ages 18 and up
Newly diagnosed with invasive lobular breast cancer that is hormone receptor-positive and Her2-negative
Postmenopausal
No prior or current use of hormonal therapy, chemotherapy, radiation therapy, or other therapy to treat the current breast cancer
WHAT PARTICIPANTS CAN EXPECT
During an initial visit, participants will have a physical exam, blood tests, collection of medical and surgical history, and an additional breast biopsy to collect tissue for research purposes. The biopsy will be done in an outpatient setting. Following the initial visit, participants will be randomly (like drawing straws) assigned to receive one of three study treatments for a 21-day period: fulvestrant (given by injection twice during the 21 days), anastrozole (taken by mouth once per day for 21-24 days), or tamoxifen (taken by mouth once per day). Following treatment, tumor tissue will again be collected for research purposes. If you are already scheduled for breast surgery, the sample can be collected from your tumor right after it is removed. If you are not scheduled for surgery, the sample will be collected during an additional breast biopsy.
IRB:
STUDY19120007 - HCC 13-164, A Trial of Endocrine Response in Women with Invasive Lobular Breast Cancer
MEET THE RESEARCHER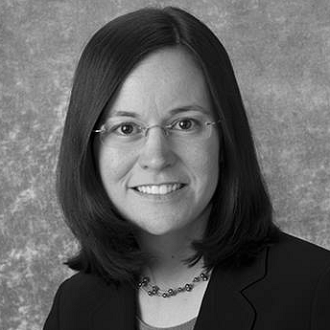 Priscilla McAuliffe
Priscilla McAuliffe, MD, PhD, is a surgical oncologist at UPMC CancerCenter and an assistant professor of surgery at the University of Pittsburgh School of Medicine. After earning her bachelors of science and medical degree with honors in research from Cornell University, Dr. McAuliffe completed a general surgery residency at the University of Florida in Gainesville, Fla., where she also received a PhD in molecular genetics. She underwent fellowship training in surgical oncology at the University of Texas MD Anderson Cancer Center in Houston. Dr. McAuliffe's research interests include pre-invasive breast conditions, chemoresistance, and targeted therapeutic strategies for breast cancer.